Lovespirals (USA)
Lovespirals are the evolution of multi-instrumentalist / producer, Ryan Lum's, earlier band incarnation, Love Spirals Downwards. Lum met sultry vocalist, Anji Bee, during promotions for his groundbreaking 1998 CD, Flux (the WB Network featured "Psyche" on Dawson's Creek and "Sunset Bell" on La Femme Nikita). Bee was then working as a radio DJ and Music Director at a college radio station. The two hit it off and soon found themselves immersed in the California drum 'n' bass scene, remixing songs and creating their own extended dance tracks.
After a series of jazzy D'n'B singles released on comps alongside the likes of LTJ Bukem, Lovespirals changed directions to explore their shared love of jazz, blues, world, and rock music for their moody debut CD, Windblown Kiss, released mid-2002 by Projekt Records, whom Lum had been under contract to for a decade. The duo followed up in 2005 with a sensual blend of their electronica, jazz, and rock influences on Free & Easy, the first CD for the band's own label, Chillcuts.
Several songs from Free & Easy have been placed with cable, television and new media: "Deep in My Soul" was featured on The Oprah Winfrey Show, MTV's My Supersweet 16 and MADE, VH1's My Coolest Years, and various shows for WE, HGTV, Travel Channel, and Biography Channel, "Trouble" has appeared numerous times on E!'s Gastineau Girls, as well as the Emmy Award winning YES Ultimate Road Trip, "Love Survives" surfaced twice on VH1's Celebrity Fit Club, "Walk Away" was used in the WB's Popular boxed set DVD, while both "Love Survives" and "Walk Away" were included in Daniel Myrick's The Strand:Venice webseries.
Lovespirals have long embraced the Internet; they launched their self-designed website in 1998 which has grown to include a webstore, RSS enabled blog and news feed, and a band podcast — Chillin' with Lovespirals. Bee was asked to join Adam Curry's PodShow Podcast Network in early 2006, and her popular podsafe music show, The Chillcast with Anji Bee, was added to the Sirius Stars 102 lineup in January of 2007. Bee also hosts a vidcast, Chillin' with Anji Bee, and is one of 7 female hosts of the new ShowGirls podcast on PodShow.
Both Free & Easy and Windblown Kiss are available digitally via iTunes, Rhapsody, Emusic, MusicMatch and Napster, as well as in CD format through Amazon, CDBaby, and other online retailers. Chillcuts worked with Metropolis, Noise Kontrol and Monitor for distribution to stores in the US, Mexico, and Hong Kong.
Motherless Child
Southern California duo, Lovespirals, create emotional, organic music that touches the soul, though they may use modern electronica techniques to create it. Their musical journey has led them back to the origins of American music. One of the most heartrending and influential early American songs is the anonymous spiritual, "Motherless Child." Covered by countless musicians in as many musical styles, the melody, mood, and meaning of the song remains constant. In Lovespirals' rendition, Ryan Lum's haunting slide guitar adds the perfect melancholic mood to Anji Bee's mournful vocals - in turns earthy and sublime . MoShang adds a certain levity to the arrangement, lending a bittersweet taste with a touch of Asian spice.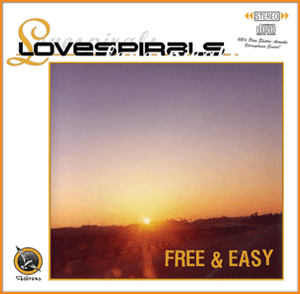 Latest release
LOVESPIRALS
Free & Easy
Chillcuts
2005
Lovespirals will soon be releasing their new album, Long Way From Home. An EP featuring 4 remixes and a new Lovespirals mix of "Motherless Child" is also soon to be released on iTunes.
Artist links