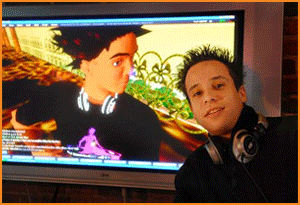 Brad Reason (USA)
Brad Reason, aka DJ Doubledown Tandino in the Second Life virtual world, is a digital music producer, as well as a DJ, Event Producer, and a Virtual Worlds Social Engineer. Doubledown has created over 250 original tracks, & performed in over 5000 events in the United States. Just recently, he decided to leave his hometown of Baltimore, Maryland to pursue new professional projects and create possibilities in Florida & within Second Life.
Brad Reason, as digital music composer, editor, and mixer, has the ability to create original electronic music on-the-fly as well as compose prearranged works. The possibilities are unlimited to his sound creation and manipulation, and often learning new skills and tactics as he performs.
Cruisin' Round Second Life
The Do Re Mix of "Cruisin' 'Round Second Life" was intended for a remix contest hosted by DJ Doubledown Tandino (Brad Reason) in Second Life. Eventually, the contest part was dropped and a listening party featuring six remixes of the track was held instead.
Latest release
Brad Reason also appears on
The Sounds of XS - Vol.1