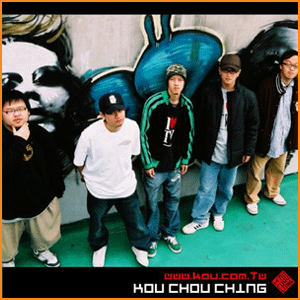 Kou Chou Ching (Taiwan)
Kou Chou Ching now thats a curious sort of name. A phrase that comes from the seasonal round of agriculture (spring planting, summer tending, autumn labor, winter hoarding), Chou Ching refers to the hard work of autumn harvesting. Meanwhile Kou has to do with the harvesters scythe. Together, the three words give the feeling of laborers plying their tools to bring in the harvest. Its also the attitude that we take to music. Maintaining the spirit of those who plant and tend, we wait for the time of harvest.
Kou Chou Ching started out with fishLIN and Fan Chiang. The two met at a street performance called Lyricist Park. Once competitors, they started collaborating and studied music production together. In the course of their experiments, they discovered that mixing traditional Taiwanese materials with a hip hop rhythm had a cool sort of flow. And because the two of them are passionate about homegrown Taiwanese culture, it made perfect sensetheyd start to make some real Taiwan Traditional Rap. In 2003 they formed Kou Chou Ching. From the first, they won accolades and awards. So what began as their unexpected discovery has been able to take form and grow.
In 2004, DJ j. little joined the crew. A DJ specializing in scratch, j. little uses traditional music albums as his scratch material, a first on Taiwan, and making Kou Chou Ching the first band to Scratch over Mandarin Chinese, Hoklo, and Hakka. Not long after, A-Ji joined with his suo-na (a traditional instrument thats a cross between a trumpet and an oboe), traditional winds and strings, and accordion. This way, Kou Chou Chin became even more multiplex, special, and mature.
In just two short years, Kou Chou Ching has participated in numerous contests and group performances, winning several awards; and in 2004 they were invited to perform in the Haiyan International Music Festival at Kongliaoa coveted stage for Taiwanese indie bands. So in two years Kou Chou Ching has established a name among the independent music scene in Taiwan. Many people find it a huge surprise when they hear Kou Chou Ching for the first time. Who would have thought that there was this sort of Hip Hop being made on Taiwan! This sort of surprise leads to other emotions. Kou Chou Chings songs bring laughter and provoke thought. They are portents and parody. But most importantly, Kou Chou Chings music does not forsake Taiwan, the place where the music is rooted. Every creative inspiration, big or small, comes from Taiwan.
Because Taiwan is their inspiration, Kou Chou Chings music brings together Taiwanese musical material like Beiguan and Nanguan, Taiwan Opera, Hakka Ba-yin and Mountain Songs, South Chinese Huamei Diao, Peking Opera, and Classical Chinese music. They also sample Taiwanese folk songs and oldies as creative material. The result is a sound thats unique among independent music artists on Taiwan if not the world.
Having crossed a few hurdles between 2003 and 2007, Kou Chou Ching has received the affirmation and support many notable Taiwanese musicians and music producers. Its been four short years. In the future there will be many more four years. Listen to Kou Chou Ching and you will discover that Taiwanese music isnt just heavy and traditional. It can also be lively and new.
Tiu Tiu Ssu Hsiang Chi
Do you still remember? Do you remember your life when you were a kid? Do you remember when you were a kid how you used to wait for each days new installment of comics and eat junk food, back when your favorite superheroes still battled against their arch nemeses?

Time flies and people cannot avoid change. The stresses of life and the influence of the workaday world settle upon us like dust. We can no longer return to our youthful innocence, nor can we reclaim that feeling of satisfaction we had when we were young. Thinking about how this story plays itself out again and again in the city, we decided to start from our childhood experiences to write this song.

As its name suggests, this song takes two Taiwanese folk tunes as its central structure. The first, Tiu Tiu Tang, comes from Ilan County in Taiwans northeast corner; while the second, Su Siang Khi, is from Hengchun, a town in the far south of the island. Together, the two tunes make this song a complete mix of north and south. We have also brought into the tune upbeat funk styles. Finally, to give the tune a relaxed and lively feel, we have inserted sounds from very familiar video games of our youth. Bringing together the old, the new, domestic, and foreign is this tunes most important mission.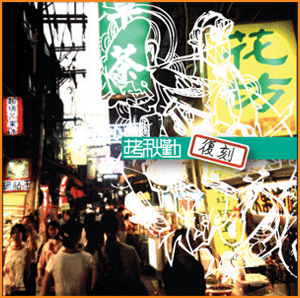 Originally released on:
KOU CHOU CHING
FuKe
Pacification Records
TW007